WEIGUANG LIFE SCIENCE PARK
WEIGUANG LIFE SCIENCE PARK
Weiguang Life Science Park is a specialized synthetic bio-industrial park built by Shenzhen Weiguang Biological Products Co., Ltd. according to its 36 years of industry experience. The project is located in the core area of science and education in Shenzhen Guangming Science City, covering an area of 100 mu, with a total planned construction area of 300,000 square meters, about 39,000 square meters have been built and put into use in Phase I, about 128,000 square meters are under construction in Phase II and will be put into use in 2022, and about 24,000 square meters are reserved for Phase III. The park focuses on the transformation of scientific and technological achievements, and builds a whole industry and a whole ecological industry by building crowdsourcing spaces, incubators, gas pedals, industrial ports and other carriers.
WEIGUANG LIFE SCIENCE PARK
Development orientation
Seize major opportunities
Guangdong-Hong Kong-Macao Greater Bay Area, , Shenzhen Advance Demonstration Zone "double zone" drive.
Shenzhen Special Economic Zone, Shenzhen Advance Demonstration Zone "double zone" overlap.

Rely on Guangming Science City
Opportunity for the Construction of the First Start-up Area of Greater Bay Area Comprehensive National Science Center.

Establish the first professional park of synthetic biological achievements transformation in China
Aim at the frontier of global biotechnology, the park will focus on synthetic biology and brain science, build a core technology platform for genes, macromolecules and cells, create an economic ecosystem for scientific research featuring innovation incubation and transformation of results, and establish the first professional park for transformation of synthetic biology results in China.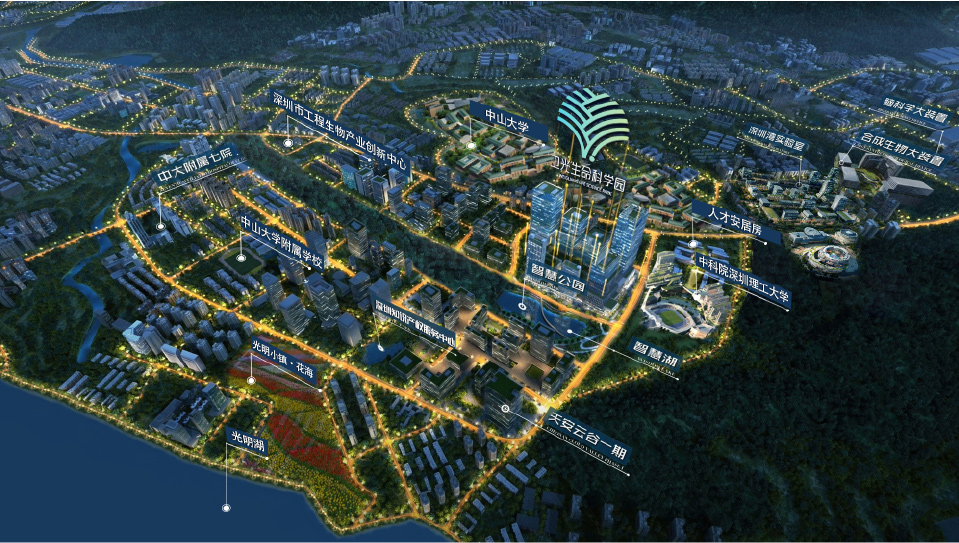 Eco-system of the industry
Eco-system of the industry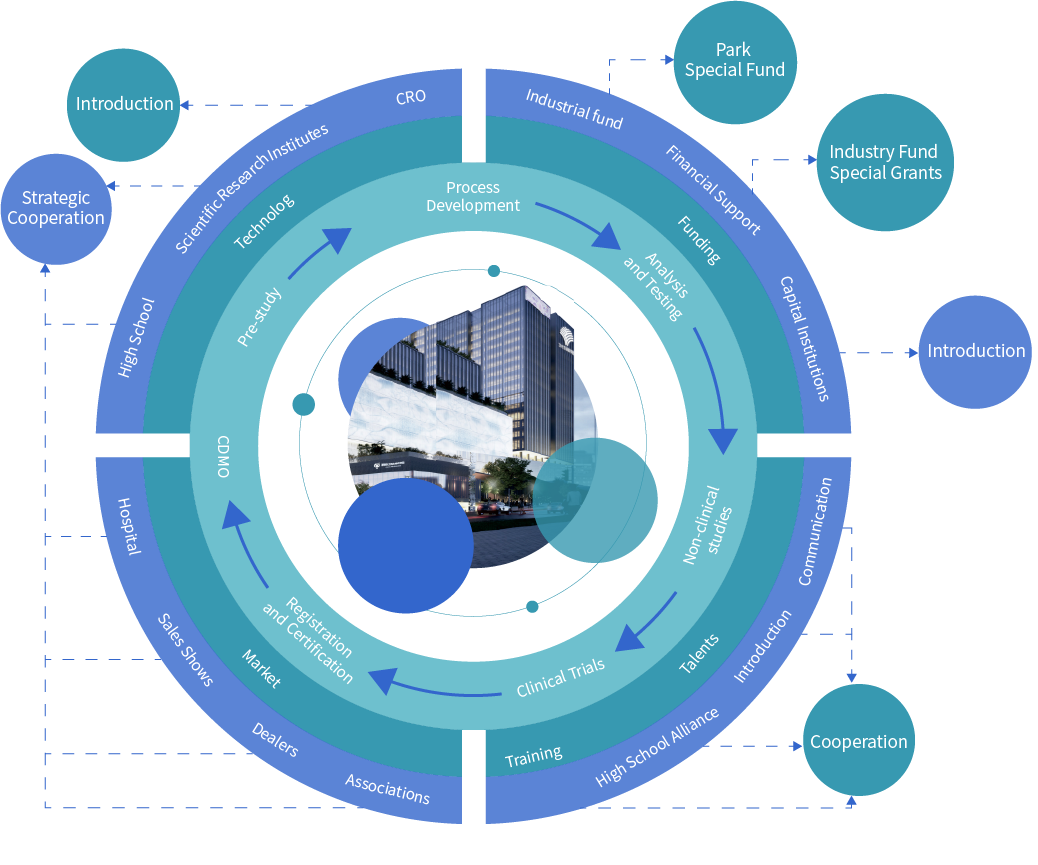 Industrial Resources
Industry Elements
Industry Chain
GOALS OF DEVELOPMENT
Goals of Development
Talent Team

1-2 Deep cooperation with Nobel Prize winners

3+ Academician of Chinese Academy of Sciences

10+ Top Industry Experts

1000 High-Level Talent Team

Innovation Results

20 New Drugs Filed IND Applications

10 New Drugs Enter Clinical Trials

20+ Registered Medical Devices

500+ Patent Applications

Enterprise Ladder

1-2 Global 500 Companies with Corporate Divisions

5+ Multinational Enterprises

3+ "Unicorn Enterprise"

10+ "Gazelle Enterprise"

50+ Incubation Period of Enterprise Innovation

Economic Scale

Total Output Value 4-6 Billion Yuan

Market Value of Enterprises in the Park 100 Billion Yuan

Technology Platform

1 International Achievement Transformation Center

1 National-level Incubator

1+ "Provincial Technology Center"

2+ CDMO Platforms
ADVANTAGES OF THE PARK
Advantages of the Park
Strong Policy Support

Weiguang Life Science Park "double zone" drive, "double zone" superposition, listed state-owned enterprises background
Biological industry: national strategic pillar industry, bright three pillar industry

Deep Industry Background

Shenzhen Weiguang Biological Products Co., Ltd. is supported by 36 years' industry experience, innovative technology and brand advantages.

Operations Management

Full life-cycle project management system, project access criteria system, access project evaluation system

Convenient Surrounding Transportation

6 rail transit: Line 6, Branch 6, Line 13, Line 18, Line 26, Line 29
3 high-speed rail: Guangzhou-Shenzhen high-speed rail, Gan-Shenzhen high-speed rail, Guangzhou-Shenzhen-Hong Kong passenger dedicated line
3 high speed: Nan Guang high speed, Long Da high speed, outer ring high speed


Complete Industry Ecology

The complete industry chain ecology from basic research, drug discovery, CMC. non-clinical IND, clinical research, NDA, manufacturing, distribution to the terminal

Complete Industrial Support

The first and second phases of the park have 166,800 square meters of industrial space, including the results transformation area: 46,778 square meters, the R&D incubation area: 78,196 square meters, the living support area: 39,161 square meters, and the functional support area: 2547 square meters.